The keys of security
The high security cylinders are equipped with exclusive protected profile keys.
The keys are accompanied by the Security Card and are protected against the risk of unauthorised reproduction thanks to a special control system.

The Security Card is the only proof of ownership of your door, which allows you to duplicate your keys at a Vighi dealer.
To get a new key, contact the Vighi authorised dealer.
Hand over your personal Security Card and your ID card to make copies of your key.
The card, supplied with the door cylinder and keys, must be kept with the utmost care.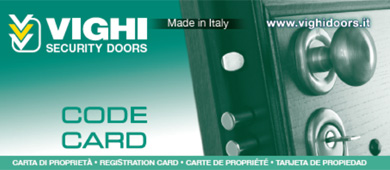 The security cylinders keys are accompanied by the Code Card, ownership card to be kept and exhibit if required for a quality duplication.